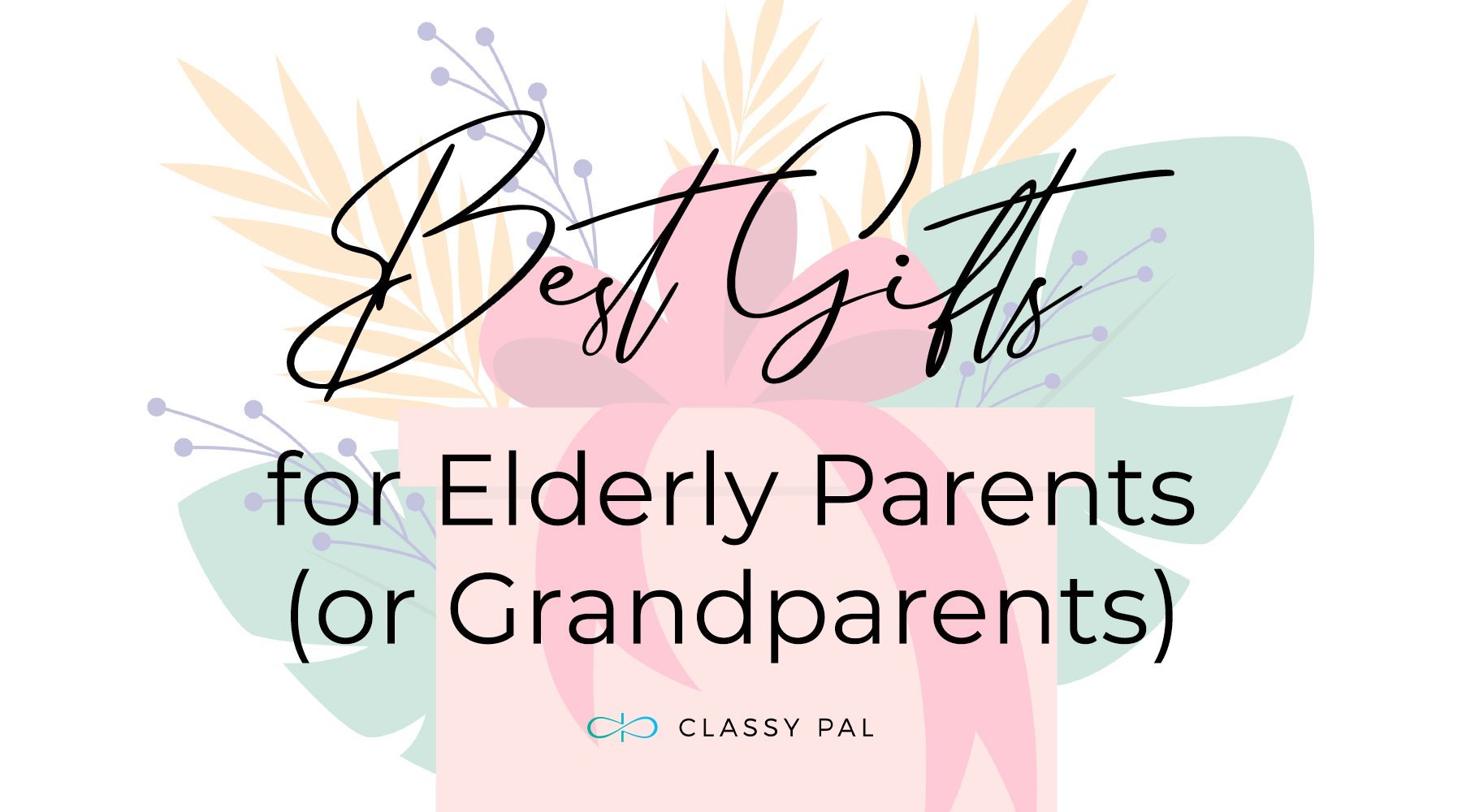 Best Gifts For Elderly Loved Ones, Grandparents & Parents
Best Gifts For Elderly Loved Ones
Let's be honest. The idea of giving a gift to a parent or grandparent makes us feel all warm and fuzzy. After all, we love them dearly and want the best for them. However, choosing a gift for them is often another story. Choosing a gift for an older adult can sometimes be a challenge especially if there are health or mobility considerations. Well, have no fear. Classy Pal is here to help you out. We've compiled a list of some of the best gifts for older parents or grandparents that they're sure to love and you'll love to give. 
Gifts for the Home
They say home is where the heart is. A gift for their home may be just what your parents or grandparents will adore. 
A sampler of teas or coffees can be a great gift they can enjoy with you or with friends.
Maybe your loved ones need something more practical. One of the things older adults struggle with is household upkeep. A gift of a deep cleaning or cleaning service might be just what they're hoping for.

 

Do your parents or grandparents love decorating their home for seasons or certain

 

holidays? If so, decorative gifts might be just what they want most. Whether it's a spring wreath or new garden flags, you're sure to find just the right thing for their personal style.

 
Gifts of Comfort
If your parent or grandparent deals with discomfort from a health concern such as arthritis or diabetes, consider giving them gifts that provide comfort. 
Warm blankets make a great gift. For those in wheelchairs, you know that regular blankets can be cumbersome and don't always fit well. Classy Pal's

wheelchair blankets

are made especially to fit wheelchairs. The large lap pocket keeps hands toasty and warm.

 

There are few things more comforting than putting on a pair of warm, cushy slippers at the end of the day. If your loved one has diabetes, finding that perfect slipper can be challenging. The Classy Pal

diabetic slippers

are the perfect choice. Their soft, non-slip, memory foam alleviates pressure points and cradles the feet in comfort. They're so comfortable, you might want a pair for yourself too.

 
Gifts for Social Connection
Social isolation is a real concern for older adults. Staying socially connected has profound benefits for health and well-being. Mobility or health issues can sometimes keep people from getting out and doing things they love. Gifts of accessories that solve those problems can keep the social door open for your loved one. 
Difficulty holding a fork or spoon can make mealtime frustration time. Adaptive utensils can make mealtimes easier to navigate. Thankfully, there are a number of products designed to make eating just a little easier. There are even oversized grips that you can use with your own utensils.
Mobility issues can make cooking and eating a challenge. Spills and drips can leave your clothing ruined and you feeling self-conscious. Adult bibs and clothing protectors can take that worry away. Classy Pal

adult bibs and clothing protectors

are designed specifically for adults and come in a variety of sophisticated styles so that your loved one will feel confident no matter where they're going.

 

Being socially connected may be challenging especially if your loved one is house bound or far away from their friends and family. Gifts that allow your loved one to remain in contact with loved ones and friends gives them a connection to a larger social circle. Items such as a phone, a tablet, a laptop, internet service, or access to video-conferencing apps are all options to keep the lines of communication open. We take technology for granted but for older adults it can be challenge to know how to connect with others.

 

If your loved one likes to go out, consider a gift card to their favorite restaurant or activity. Maybe they've expressed interest in an art class or yoga class. Arrange for that to happen. Gifts aren't always "things". "Experiences" are just as meaningful.
Gifts with Personal Meaning
Our older loved ones carry so much knowledge and family history in their memories. Being able to remember happy times and loved ones is comforting and enjoyable for many people. It's also good for preserving memory and cognition. Maybe you have old family photos or scrapbooks. 
Consider a gift of photos or mementos. There are many services that can take family photos and create lovely books or videos.

 

Maybe your family has a special food tradition such as a favorite cookie or grandma's pie that your loved one can no longer prepare. Consider preparing a family favorite. So many of our family memories are connected with food. Your loved one may treasure enjoying those favorite cookies or treats again.
If your loved one can't be near you, consider making a special video with special messages from all their loved ones. Or, organize a video call and chat in person.

 
Practical Gifts
Don't underestimate how loved practical gifts can be. There's a reason moms always gave their kids underwear and socks. They knew it was needed and it was given with love. Think about the practical things your parents or grandparents use and need. 
Buy some of the special toiletries and self-care items that they love. Create special self-care gift baskets.

 

Games and puzzles are not just for kids. Consider a gift of puzzle books, games, adult coloring books and such. These items are great for filling time with something fun. These activities can also help to flex that brain muscle that is so important for cognitive health. Create a cute gift basket or activity box filled with all kinds of fun, engaging activities. Don't forget the pens and colored pencils.
Choosing a gift for your elderly parent or grandparent doesn't have to be hard. Let your heart guide you and you'll surely find the gift that fits them. And, the best thing is, you don't have to wait till a holiday or birthday. it's always a good time to give a gift to someone you love.