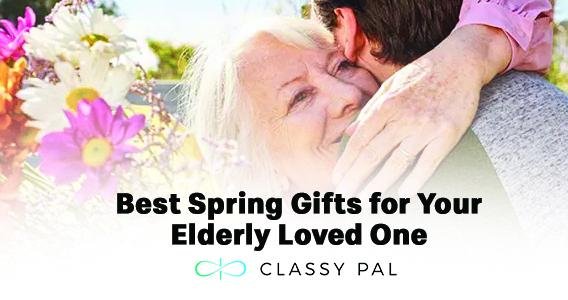 Best Spring Gifts for Your Elderly Loved One
Spring has sprung and it's time to shake off the winter blues.
With the days getting longer, thoughts turn to getting outside to enjoy the lovely weather and spending time with friends and family. Spring is also the time for gardening, planting flowers and adding some fresh décor to our homes. It's a time of hope, renewal and new beginnings.
Our elderly loved ones love spring too but getting out to enjoy it may be a bit more challenging. As you're planning your spring activities, don't forget the loved ones who may have difficulty getting out to enjoy this time.  Why not surprise your loved one with a special gift that they can enjoy all season long?
At Classy Pal, we understand the needs of caring for an elderly loved one and finding ways to keep them engaged and thriving. Most older folks don't want more "stuff". They want things they can use and, more importantly, they want things they can enjoy with their families. With that in mind, we've searched the internet and compiled a list of the Best Spring Gifts for Your Elderly Loved One. You're sure to find the perfect spring surprise for your loved one.
Crafty Kits
For your creative loved one, an arts and crafts kit might be just the thing! When choosing a kit, keep in mind any dexterity or mobility issues that could make the activity more difficult. Look for easy to grasp or easy to assemble projects.
Arts and crafts kits lend themselves well to spending time with others, too. Grandparents and grandchildren can create lasting memories and have fun at the same time.
Check out these shareable kit possibilities:
More of an independent soul? Try these adult crafting kits:
For the serious artist:
Culinary Gifts
Is your loved one more of a foodie or the family baker who lovingly prepares those traditional family favorites? Gifts of culinary tools can be the perfect gift for the cook in your life.
Don't rely on memory for those family favorites. A kitchen diary may be just the thing to preserve those beloved family recipes and the memories they hold.
Home Décor
After the long, cold winter months, a change of scenery can be just the thing to brighten up your loved one's home. Instead of adding more things, consider swapping out or even repurposing worn or seasonal decoration with some fresh new accents. Of course, you want to respect your loved one's space. The next time you're there, take a look around. Are there things that could use some refreshing? Are there some keepsakes that need a little TLC?
Here are a few gifts that are sure to brighten up any space:
Make sure those special keepsakes can be preserved and displayed safely:
Add some color to a small space:
A window is the perfect place to add a touch of spring:
Spring nights can still be chilly. A lovely lightweight throw can be comforting and add some spring cheer to any room.
Garden Gifts
Maybe your loved one is a gardener at heart or just enjoys sitting outside enjoying the lovely landscape. Here are some great gifts to bring a splash of color to a spring garden.
Love wind chimes but don't want to disturb the neighbors? Check out these neighborly chimes!
For the gardener who likes to add a personal touch: 
Not sure what to get your loved one? It's not too late to fill a basket with goodies! Think about the things they do daily. What could you offer to make their day a bit easier?
Favorite bath or personal hygiene items
A journal, notebook or adult coloring book (don't forget the pens or colored pencils)
Cute non-skid socks or slippers
A favorite sweet treat
A memory book of favorite pictures loved ones and good times
No matter what your loved one's interests are, a thoughtfully chosen gift and being included in family events let's your loved one know just how much you love and value them. Kindness is always the best gift of all.