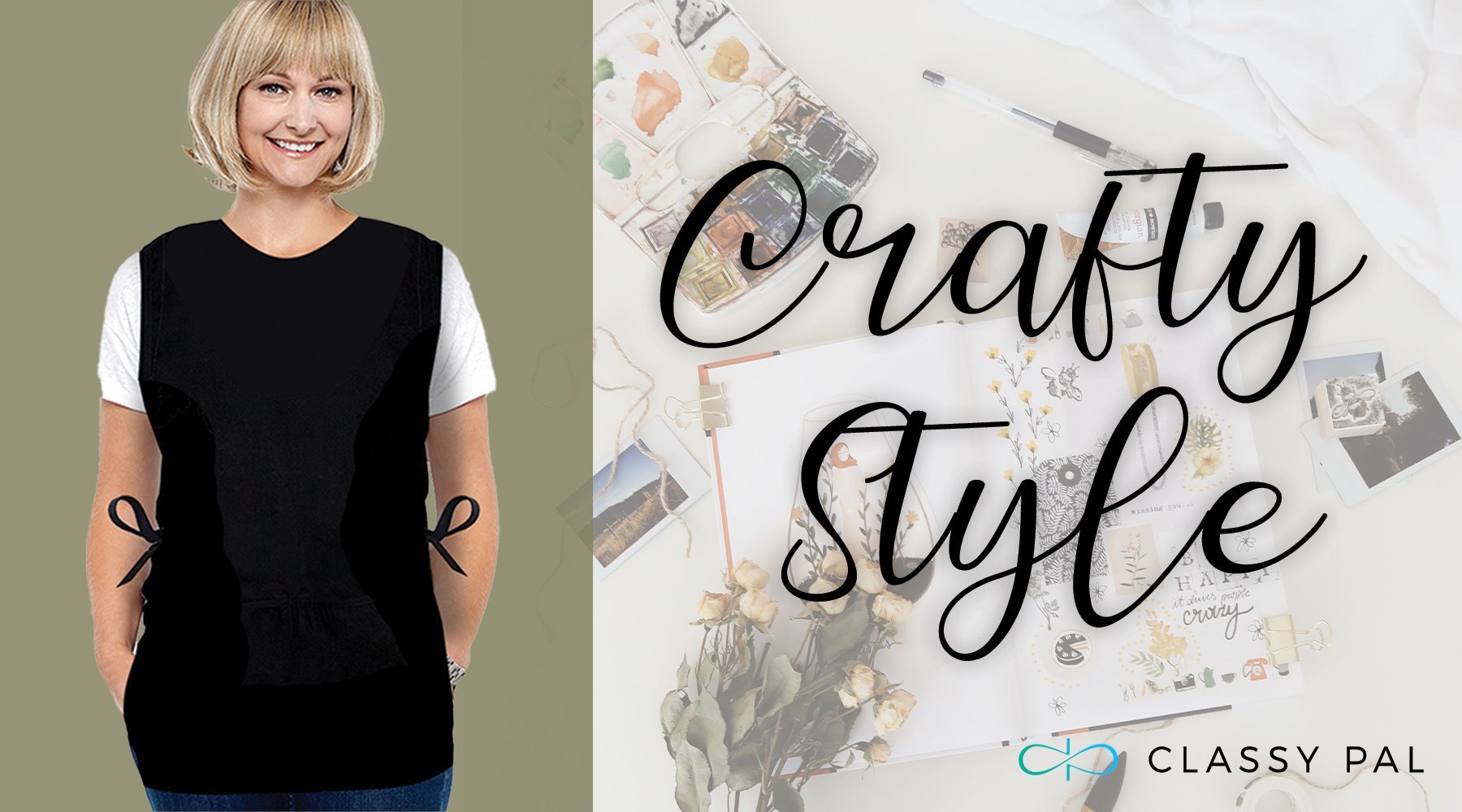 Crafty Style: Our 5 Best Tips for Arts & Crafts and DIY Lovers

Crafty Style: Our 5 Best Tips for Arts & Crafts and DIY Lovers
How many times have you created your masterpiece only to find you've left some of that masterpiece on the floor? Or on your clothes? You're not alone. Crafters know that sometimes the masterpiece is in the mess. But, is there a way to create that masterpiece without having to spend a fortune on cleanup? We've heard you, our crafty friends! We love a good craft project so we've gathered our five best tips for creating your masterpiece without creating a mess to clean up. Check it out!
Protect Your Area
Think about the crafts you'll be creating and the materials you'll be using. Things like water, paint, glitter, and other things that can drip, splatter or scatter can be a cleanup headache. Put down plastic sheeting or a tarp. Even a roll of brown butcher paper can save your surfaces from stains and splatters. Coverings also make for easy cleanup. When you're done, peel it up, fold it up and you're done. 
Make Your Mark
Whether you're new to crafting or a pro, you can take something new and make it uniquely you! Maybe you're a painter or a jewelry maker or a candle artisan…whatever it is, make your mark. Think about what you create and ways to make it your own. Maybe your favorite icon is a princess crown or a heart or your initial. Maybe your best work is known for using a particular medium (say, oyster shells) or a particular shade of blue. Think about ways to incorporate that into your new craft project so that it reflects your unique gift.  
Be A Crafty Fashionista
You may work with some of the messiest types of crafting supplies. That doesn't mean you have to look like you do. And Classy Pal has you covered! Our line of cobbler's aprons and smocks offer you a variety of looks and styles to choose from. Our cobbler's aprons are designed with full chest and back protection. They feature 4 pockets: 2 deep pockets, a cell phone pocket, and a pen pocket. The cobbler aprons are composed of the finest soft polyester and cotton blend so they are durable yet comfortable.
Our lightweight, Snap Front Smock with Pockets features a full front snap enclosure and are made of the finest soft polyester & cotton blend. Our craft smocks are designed with full chest and back protection for a relaxed and comfortable fit over your clothing. They feature 2 deep pockets to hold your supplies and tools, cell phone, or whatever you need close at hand. 
Create Space
There's nothing more inviting to a crafter than a dedicated craft space. Whether it's a quiet place for drawing or a large space for all your things, having a space that is your own helps to get those creative juices flowing. Your space doesn't have to be huge but you want it to be functional. Think about your particular craft. Maybe you need table space for spreading things out. Maybe you need shelves or drawers. Finding space can sometimes be challenging too. Look around your home. Is there a space that goes unused such as a small nook or an empty room. Maybe you have space in your garage. Look around for what could be. When you find your craft space, you'll know. 
Crafty Organization
Once you have a space, big or small, it's important to organize your supplies and tools so that they are at the ready when you feel the urge to get creative. Organizing doesn't have to cost a fortune either. Call on those crafty skills you already have. Jars, cans, buckets, boxes, baskets and more can all be upcycled into unique and decorative storage that reflects your unique style. All it takes is a little imagination and a little crafty style to make something ordinary something beautiful. 
There is something satisfying about making something that is uniquely yours. Crafting is a relaxing and entertaining activity that many people love. Take our tips for crafting in style and make something beautiful to add to your own collection or to share with others. We can't wait to hear what you create!