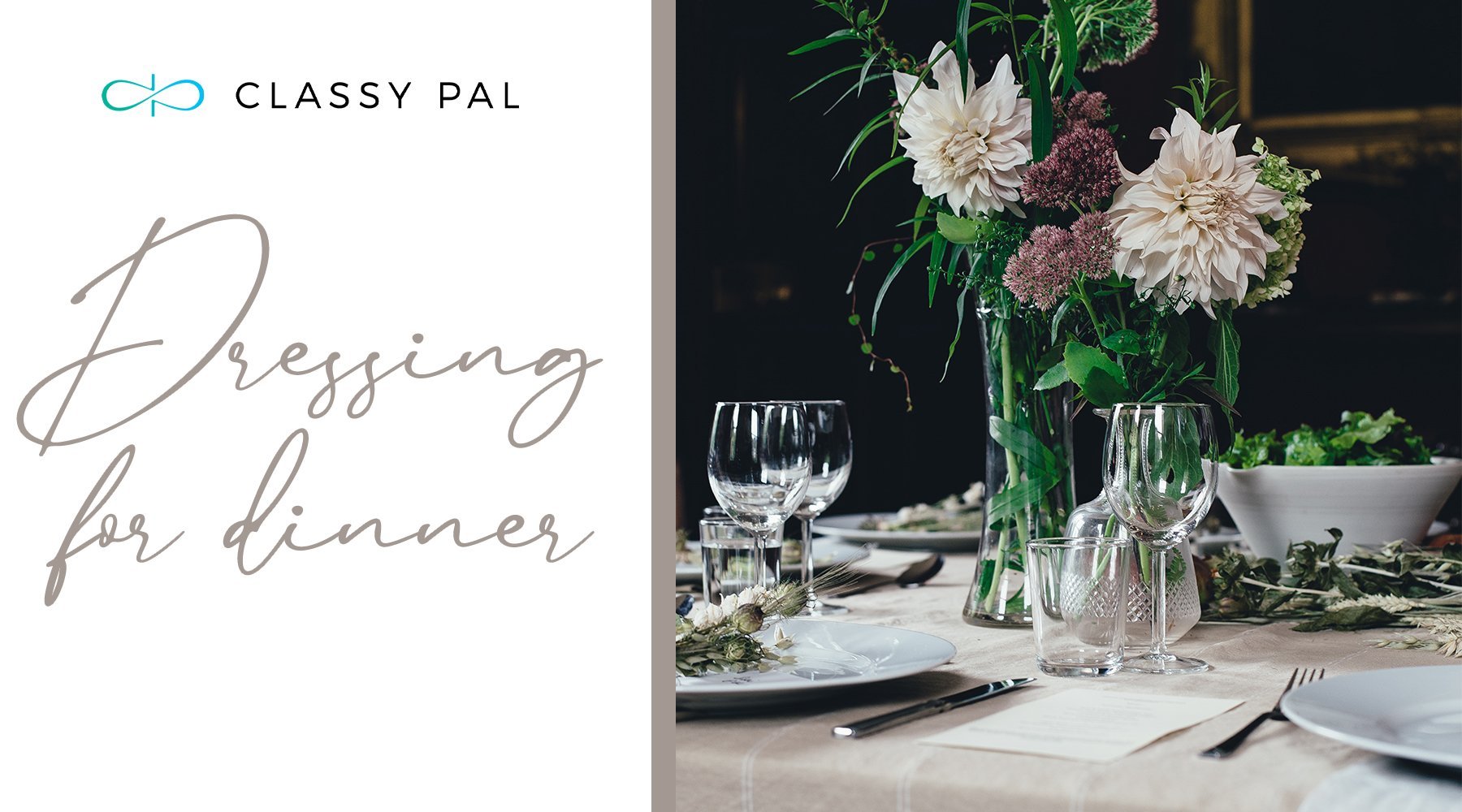 Dressing for Dinner
Dressing for Dinner
You've probably heard the expression, "dress for success". It's true even for mealtimes. Dressing for dinner is more than just choosing an outfit. Dressing for meals, especially dinner, is one of those little rituals that can have tremendous influence on self-confidence and sense of enjoyment. Whether you're dining in, eating out, or attending a fancy affair, dressing for the occasion is an important part of the experience. 
For people dealing with illness or mobility issues that are challenging at mealtime, the idea of dressing for meals or going out can be intimidating. The worries are real:
What if I spill?

 

What if I soil my lovely clothes?

 

I do not want to wear one of those white plastic bibs that everyone will stare at!
The good news is, no matter your situation, there are things you can do to make your dining experience, whether causal or fancy, pleasant and comfortable. Here at Classy Pal, we hear you and we understand the challenges mealtime can bring. Here, we offer you tips for dressing for dinner in ways that can make your dining experience enjoyable and help you feel comfortable and confident no matter where you're dining. 
Stick to the Basics
Do you find yourself wondering, "What should I wear?" If so, the solution might be to stick to the basics. If you're someone who likes to dress for meals or likes to go out, it can be tricky finding clothes that are stylish and still comfortable. One way to solve the dilemma is to keep "the basics" in your closet. These are staple pieces of a wardrobe that you can dress up, dress down or style as you wish - items like a simple black dress or a shirt and tie combo, shoes and accessories that can go together in different ways. When you have options at the ready, it can take the pressure off of deciding what to wear.
Keep It Simple
It can be exciting choosing an outfit to wear. Sometimes that excitement can lead to the "more is better" mindset. Too much – too many layers, too many accessories – can leave you feeling uncomfortable, maybe even overdressed and feeling out of place. You want your attention to be on your dining experience and not on adjusting your clothing or constantly peeling off layers. This is a time "when less is more" really applies. 
Dress for the Occasion
When dressing for dinner, consider where you'll be and even what you'll be eating. Dressing for a back yard BBQ is very different from dressing for a meal at a fancy restaurant. After all, you probably wouldn't wear a cocktail dress or coat and tie to a BBQ.  Think about what you might be doing or eating. Choose clothing and accessories that fit the occasion. 
Wear What Makes You Feel Confident
A fancy new outfit is all fine and good but if you're constantly adjusting it or feeling self-conscious, it's hard to enjoy your event. Instead, choose what you feel confident wearing. You want your memories to be about the experience and not the worry about how you look.
Plan Ahead
This tip goes along with feeling confident. Plan ahead for any challenges you expect for yourself or a loved one. It might be needing a clothing protector. It might be needing a wheelchair blanket to stay warm while you're out. Whatever it might be, planning ahead for any possible challenges takes away the worry and allows you to relax and enjoy the experience. The key is planning and having the right clothing and assistive items for your needs.
When it comes to dressing for dinner, ClassyPal's line of adult bibs and clothing protectors check off all the boxes. They are simple yet sophisticated. There are styles to fit every occasion and every personality. 
Our Dress n Dine adult bibs are stylish, sophisticated and elegant, perfect for special nights out or anytime you want to dress for dinner. With touches such as brooches, pearls, ties and tuxedos, you will be dressed to the nines and everyone will wonder where you got that fabulous accessory. Our Wipe n Wear adult bibs are great for those casual meals, picnics, or when you're eating on the go. 
If you happen to be the cook, you're in luck too! Our line of cobbler style aprons are not just for crafting or work. They make a great covering for when you're preparing a culinary masterpiece. 
All of our adult bibs and clothing protectors are designed specifically for adults. They are easy to put on and take off and easy to clean. They are discreet in design so that you can feel confident wearing one no matter where your dining adventures take you. And, they fold easily to be carried discreetly or tucked into your bag.
Next time you're dressing for dinner, take Classy Pal along. Our adult clothing protectors will keep you confident and secure that you'll look your best and free to enjoy your time with friends and loved ones.