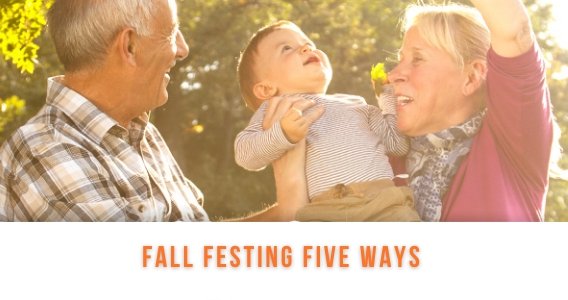 5 Ways to Celebrate Fall & Autumn
The leaves are exploding in color, and the air is crisp. Sure signs that Fall has arrived! 
With the new season comes a sense of home and warmth and preparation for all that Fall brings. Fall festivals are common in a lot of places, but this year might be a little different. We are still amid COVID-19 and, for many folks, getting out to the fall activities might not be a safe option. 
You and your loved ones can still enjoy the festivity of Fall! We've gathered some of the best tips for celebrating Fall at home! 
Decorate for the season!
Transform your home into Fall with decorations that reflect the colors of the season. Whether you decide to purchase your decorations or make your own, there's something for everyone!
Making your decorations doesn't have to be complicated. Here are a few tips for decorating simply and beautifully:
Bring nature inside – miniature pumpkins, ornamental corn, dried florals, and more can be used in a variety of ways to bring seasonal color to your home.  

Make a wreath – Even if you're not "crafty", you can make a wreath using a few items available at local craft stores. You may even have what you need already! 
Make a fall leaf garland – whether you use real leaves or make your own from colored paper, garlands are a simple and easy way to bring color into your home. Here's a simple DIY leaf garland project. 
If dexterity is a concern, choose large, easy-to-handle craft items and offer to lend an extra hand. 
Embrace the Flavors of Fall
For some people, it's pumpkin spice. For others, it's a hearty stew or a favorite dessert. Whatever it is that says "fall" to you, now is a great time to enjoy the season's flavors. 
Enjoy your family favorites or try something new. 
Spiced Apple Cider – this one is made in the slow cooker, so it's easy, and your home will have that smell that says, "fall is here!"
Make soup! Nothing says fall like a hearty soup or stew. A slow cooker makes making soup a breeze! Check out these easy, slow cooker soup options.
If cooking is difficult, consider planning an afternoon of cooking or baking with loved ones. Cooking can be a great activity to enjoy all the family's favorite dishes and pass those beloved family recipes on to the next generations of cooks and bakers. 
If you've been thinking about a unique way to preserve those beloved recipes and the memories they hold, check out this resource. 
Get Outside!
Sunny, fall days are perfect for a walk, a ride, or other outings to enjoy the colors, the sunshine, and the crisp air. Of course, it's important to consider mobility needs and maintain social distancing, and mask protocols appropriate for your loved one's health considerations. 
If leaving home isn't an option, even short trips outside can be enjoyable and rejuvenating. 
Sit on the porch or patio with a cup of tea or warm cider

Take a stroll around the block or to the mailbox

Bring outside in - open a door or window for some fresh air and sunshine
Fall-themed Fun
If going out isn't an option or for those fall evenings, look for fall-themed versions of your favorite at-home activities.
Indulge your artistic side with fall-themed coloring or drawing. Coloring isn't just for kids. Adult coloring has become a favorite pastime for grown-ups because it's a great stress reliever and mood booster! There are lots of great free resources for adult coloring and drawing. Check out the many choices here that include pumpkins, leaves, deer, and more!
If you prefer an adult coloring book, here's an option to consider.
Don't forget the colored pencils!
If puzzles are more your style, there is no shortage of fall-themed options to choose from. Whether you want 1000 pieces or just a few, there is something for everyone. Here are a few favorites:
Northern Lights Cabin (30 pc.) 
Autumn Farm (500 pc.) 
Autumn Harvest (1000 pc.) 
Have A Fall Film Fest
We all have those favorite films that we could watch over and over. When the weather outside is frightful or getting out is challenging, an evening watching old favorites can be just the thing to warm the heart. 
Get some favorite movie-time snacks and settle in for an evening of fun. If it's possible, consider inviting some loved ones to join in. 
Not sure what to choose? Here are a few classic fall favorites!
When Harry Met Sally

Fly Away Home

Good Will Hunting

Planes, Trains, and Automobiles

You've Got Mail

Practical Magic
While you're festing, don't forget your Classy Pal clothing protector. Whether you're enjoying the remarkable Fall eats or crafting with your friends, it can keep your clothes clean and free of spills or drips. Whether it's fall festing in your community or celebrating at home, there is something for everyone and every ability. With a little planning, you can enjoy all that fall has to offer. 
Happy Fall from all of us at Classy Pal!