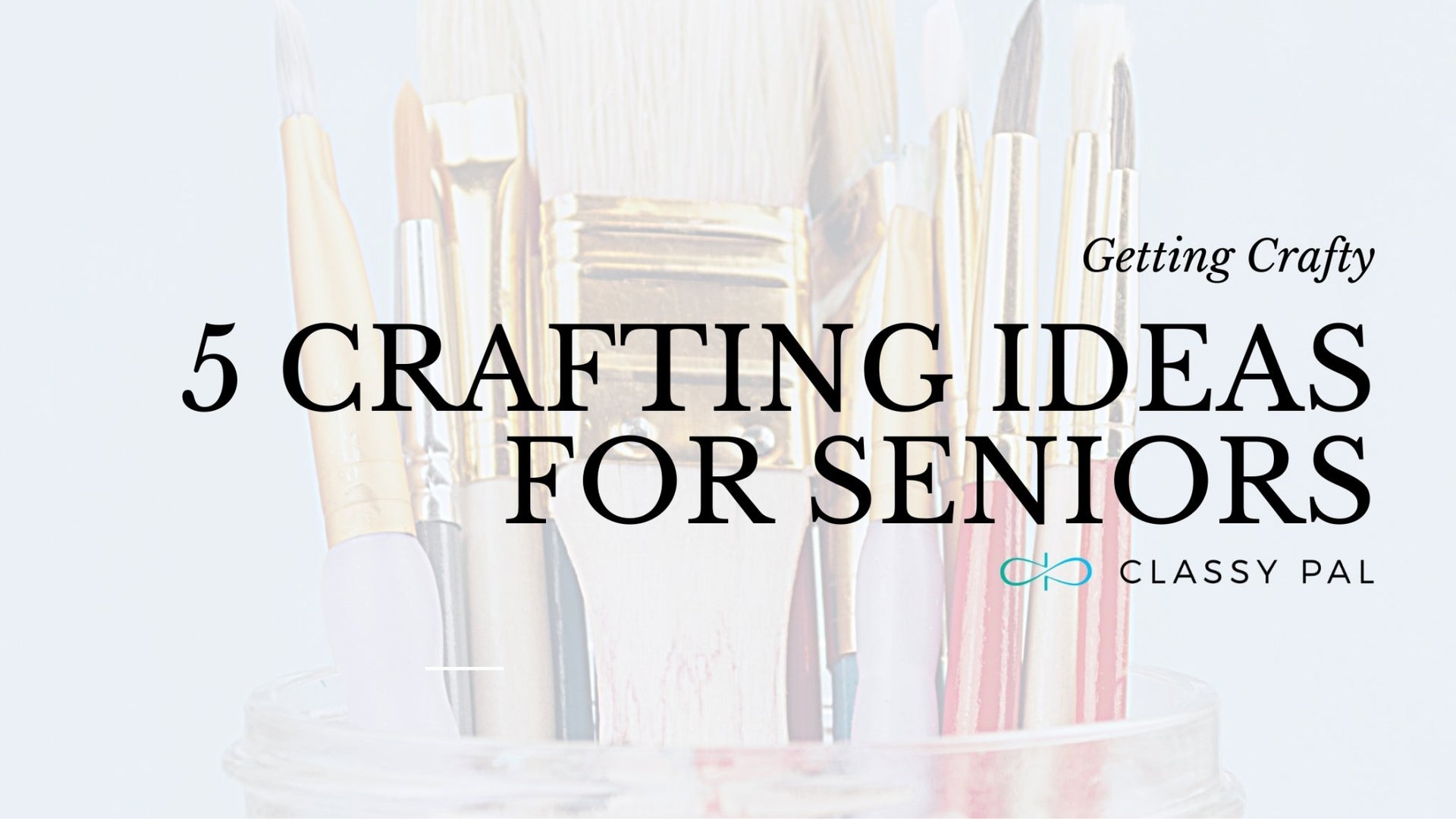 Getting Crafty: Five Crafting Ideas for Seniors
If you love handmade crafts, this article is for you! Crafting is something that many people enjoy but as we age, our sight or manual dexterity just isn't what it once was. (Have you tried picking up those tiny seed beads lately?) The good news is, if you love crafting, there are many ways you can continue to indulge your creative side. We've gathered five of our favorite craft ideas for mature crafters. Take a look!
Painting and Drawing
Whether it's freestyle, watercolors, ink, colored pencils or mixed media, painting and drawing is accessible for almost everyone. Today, brushes come in all lengths and sizes. Pencils come on varying thicknesses too, even no-roll styles. Pencil grippers can be used to hold implements. Adjustable easels make reaching your work easier on the back and shoulders, too.
For those who like the idea of painting or drawing but don't feel ready to freestyle, there are tools for you too. Today, you can find paint-by-number kits and coloring books for almost any interest or skill level. These are not your painting kits from childhood. These kits and coloring books are designed for adult creatives. Kits and books are an easy way to step into painting and drawing at your own pace and comfort level.
Painted Flowerpots
Decorative flowerpots are quite popular. You've probably seen them in magazines and maybe even on porches in your neighborhood. They're lovely additions to your home and garden as well as great gifts. And they're inexpensive and easy to make. With an endless possibility for designs, you can let your creativity run.
To get started, get a few terra cotta flowerpots. Choose from small or larger ones, depending on the idea you have for your pot. You can find terra cotta pots at local garden stores, big box stores, craft stores, even some local thrift stores and dollar stores. You might even have a few old ones hanging around your garden just waiting for a facelift!
Next, choose your paint colors and decorative accents. Look for outdoor acrylic paints if you'll be displaying your pots outside. Visit your local craft store for tons of ideas for paint colors, decorative accents and more.
Old Fashioned Decoupage
You may remember decoupage projects from your grade school art class, never thinking it would still be a beloved craft today. Craft fairs are a trove of decoupaged items from coasters and trays to wood blanks, tin items, and more. You can even use terra cotta pots.
All you need to get started are some pictures or pretty papers, some decoupage paste (one popular brand is Mod Podge) and a base. From there, the design is all up to you. Not sure how to get started? Here's a great blog site to help: https://modpodgerocksblog.com/
Knitting and Crocheting
Knitting and crocheting may seem like a blast from the past, but these perennial favorites have stood the test of time. In fact, with more people at home in the last year, there's been a resurgence of interest in knitting and crocheting. Not only can you make beautiful items, but the rhythmic pace of the needle work can also be soothing and relaxing. And, if working with yarn is something you love but your hands are not as nimble as they used to be, check out the chunky tube yarn blankets and crafts. There's something for every skill level.
Craft Kits
Maybe you're someone who's always had a desire to be crafty but never knew quite where to start or what you might like. Well then, craft kits might be just your style! Whether you want to try making a wreath, paint a picture, build a bird house, or make jewelry, crafting kits let you try out a new craft project without buying tons of tools and supplies you may never use again.
Look for craft kits at your local craft store, big box store, or even online at sites like Amazon. A quick search of "craft kits for seniors" will give you tons of options to consider.
Can't find what you want? Make your own craft kit. Make a list of what you'll need. Then, check out discount stores and craft stores for those items. Many times, you can find smaller sizes of common art supplies in discount stores, sale bins and such. Crafting doesn't have to be expensive, especially when you're only getting the supplies you need. And, if you find it just wasn't your cup of tea? No worries. Move on to your next project.
Crafting can be fun, but it can be messy too. Don't worry, ClassyPal has you covered! Our Cobbler's Aprons are comfortable, stylish, and made to take on those craft projects while keeping your clothing protected. Our aprons feature deep pockets and easy on, easy off design. Our Wipe N Wear clothing protectors are great for those craft projects that might be more splatter-prone. No more worrying that your clothing will end up looking like your craft project.
Crafting can be a great way to spend free time and give you a chance to flex that creativity. Engaging your brain in creative ways also helps to maintain that cognitive flexibility that is so important to nurture as we age. When it comes to crafting, there really is something for everyone. So, choose a project and get your creativity run free!