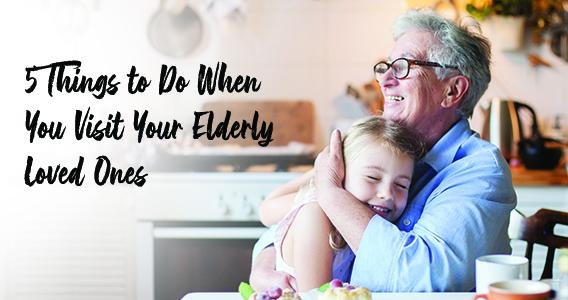 Holiday Visits: 5 Things to Do When You Visit Your Elderly Loved Ones
Although holidays are traditionally a time for families and friends gathering to celebrate, you may have elderly parents or loved ones who cannot travel or live a distance away. Holidays can be an especially lonely time for them. Here are 5 things you can do to brighten their day and let them know you're thinking of them. 
Plan A Visit
If it's possible, plan a visit to see your loved one. Even if it's just a day trip, being able to see each other strengthens those bonds and gives you a chance to reconnect. Be careful with surprise visits. If your loved one is socially active, they may be out and about when you arrive. Also, if your loved one is in an assisted living setting, be sure to check on appropriate visiting times and any visitation requirements. 
Do A Discreet Well Check
Seniors fiercely protect their independence and that is even more evident when their adult children come to visit. If your elderly parent(s) or loved ones live independently, take a look around while you're there. Pay attention to the little details that they might not want or think to tell you about – are they eating? Are they sleeping well? Is their home safe and in good repair? What's in the frig? Could they benefit from an assistive device such as a bath safety bar, special utensils or an adult clothing protector like the ones from Classy Pal? Are you noticing changes in their cognitive abilities? It's the little things that can give you so much insight into how they're doing on their own. Make a note of any concerns. It will help you to monitor and help over time.
Take A Look Around
Are there are some small repairs or safety issues you can address while there? Things like putting fresh batteries in smoke detectors, securing throw rugs, checking locks or tightening bath bars are quick and easy fixes that your loved one may not be able to do or may not think of. Of course, gently offer to do something. It is important to respect their space. When your loved one knows you are performing a kindness and not challenging their independence, they are much more likely to accept the help. 
Reminisce
There's nothing quite like reminiscing about times gone by. Pull out the family photos. Share loved stories and memories. Sometimes we think avoiding reminiscing is best because it can evoke powerful emotions. However, reminiscing can actually help your loved one cope with aging by allowing them to connect to the past, recall accomplishments and reaffirm their importance in the family. Even loved ones with advanced memory loss can benefit. They often retain long-term memory and can probably tell you fascinating stories of many Christmases past. 
Make the Visit Fun
Of course, the main reason to visit is to enjoy spending time with the ones you love. If it's possible, plan a little outing. Have a special holiday lunch. Go see the local Christmas light display. If your loved one is homebound, plan an afternoon of Christmas fun. Bake Christmas cookies. Enjoy holiday snacks and watch Christmas movies. Remember, you're making memories that will warm hearts long after the visit is over.  
Whether your loved one is close by or miles away, the holidays are the perfect time to spend time together. You'll be able to check on them and spend precious time with them. No matter how you connect, their hearts will be full knowing that they are still included and loved. 
From all of us at
Classy Pal,
we wish you and your loved ones a safe and joyous holiday season.