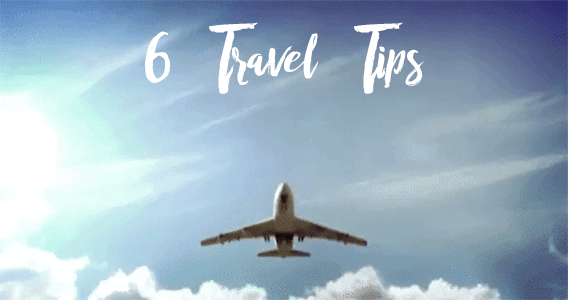 On The Road: Six of the Best Items to Be In Every Savvy Traveler's Bag
Fall is here and the holidays are just around the corner. Holidays are some of the busiest travel times of the year. Terminals are crowded. Traffic is congested. Seems like everyone is on the road headed somewhere to celebrate.
Traveling is already stressful. When you or a loved one has some age or illness-related issues, traveling can present some unique challenges. Sometimes, those challenges seem so daunting that travel becomes something of a memory. The good news is, travel is possible even with some adaptive needs and often, there are ways to reunite loved ones to create new memories.
The key to managing travel with special needs is planning and preparation. Know what the challenges are likely to be. Have a plan. Have the right supplies or aids with you. Here are six of the best carry-on travel items that should be in every savvy traveler's bag this season:
Travel pillows
Yes, those U-shaped neck pillows look silly but silly is a small price to pay for comfort. Sitting in a confining seat for an extended time can be uncomfortable. A neck pillow can alleviate that stiff neck that travelers often experience and might even help you catch a nice nap because of the added head support. A small travel pillow can pad those tender spots that take the stress like the lower back. These pillows are easy to pack too.
Travel Size Blanket
When you're traveling, you can't always control the temperature. If you know you or your loved one tends to get chilly on long rides or flights, toss a small travel blanket in your travel bag. You'll be able to warm up when you need to and have a snuggly blanket in case you decide to take a nap. You can also dress in light layers to adjust as you need to be comfy.
Mealtime Aids
Travel usually means eating on a plane or in an unfamiliar place. This can be super stressful when you or your loved one has some challenges at mealtime. Take some of the stress out of mealtimes by bringing along familiar aids like a Classy Pal adult bib. Knowing you can eat without worry let's your loved one eat comfortably while discreetly avoiding soiling their clothes. With just the right styling to fit any situation, you'll all feel confident and secure no matter where you are headed. Depending on your mode of travel, you might even be able to bring along familiar utensils and such. Definitely ask!
Snacks
Layovers and delays are unpredictable and can be quite lengthy. Your food choices may be limited. Carry a snack in your travel bag just in case you and your loved one find yourselves with a long delay. Having a healthy option is especially important for someone who as dietary restrictions or health issues that require timed meals. Knowing you have appropriate snacks can make the delay a little more tolerable.
Medications
When packing, it is easy to forget to pack medications. Before you go, check to make sure you have enough medication to last the trip especially if you are going out-of-state or out of the country. Know when and how medications should be taken. If you're not sure, check with the doctor before you go and put a small reminder note in your bag or on your phone. With time zone changes, getting medication timing right can be tricky. Consider adding a medication reminder app to your phone. And, always keep medications in the carry-on bag. If you're delayed, you can't get to your checked luggage.
Hygiene Kit
Delays can also mean a long time between showers. You want to be able to freshen up but sometimes bathing isn't an option. And, depending on restrictions, you may not be able to bring multiple bottles of product. One great solution is adult-sized body wipes. These are not those tiny hand wipes. These are large, moist towelettes made just for adults. Other things to consider packing in your carry-on include a travel toothbrush and toothpaste, a comb or brush and yes, even a change of undies. It's the little things that can make us feel not so travel-weary. You can clean up comfortably and feel refreshed while you're waiting to continue your journey.
Traveling during the holidays doesn't have to be a chore. By packing with comfort in mind, you and your loved one can travel comfortably and confidently. You'll have peace of mind knowing you can handle any situation that arises and you can look forward to spending time with those you love.