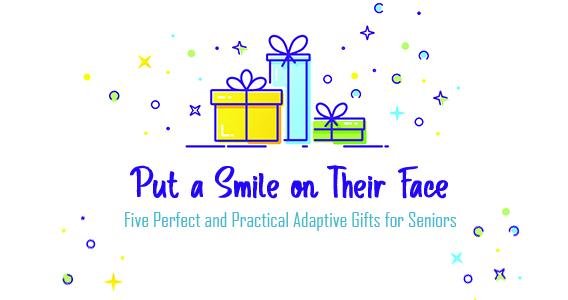 When a smile says it all – Five Perfect, Practical and Adaptive Gifts
Picking just the right gift takes time and sometimes a little research. You want your gift to be special. You want it to be useful. And most importantly, you want it to be useable and not something that will sit in a drawer or require a team to put it together. This consideration is especially important when choosing a gift for a loved one who may have special needs or who struggles with everyday items. The good news is that there are so many great adaptive gifts for adults.
Choosing great gifts for seniors or adaptive gifts for your loved ones doesn't have to be hard. By looking for the right combination of form and function, you can choose something that will bring a smile to your loved one's sweet face.
So what makes a great adaptive gift for adults or someone who might need a little extra help?
Discrete – no one wants to draw attention to their challenge or feel they are different. A great adaptive gift does its job subtly. Ideally, it should blend into the surroundings and not call undue attention to the user.
Style – We all like to be stylish and fit in with our peers. A great adaptive gift should match your loved one's personality. If mom is a silk and pearls kind of lady, she will probably not be very comfortable with something covered in glitter and primary colors.
Function – A great adaptive tool does what it's supposed to do and does it well. Your loved one can be assured it will get the job done right the first time. Dad doesn't want to have to ask someone for help every time he uses it. If the tool isn't functional, he won't use it.
User-friendly – A great adaptive tool is user-friendly. You don't want the struggle to use the gift to be greater than the reason they need it in the first place.
With these qualities in mind, let's look at some of the best choices out there:
1. Adaptive Utensils & Tools
From weighted utensils to cuff holders to button hooks and more, there are tools to help with almost every aspect of daily living. Utensils are designed with large grips or weighted handles. Cuffs can help the user to hold utensils when hand mobility may be limited. These tools come in all kinds of styles and designs. Best of all, so many of them look like everyday utensils so your loved one doesn't feel out of place.
2. Divided Plates
Divided plates may send your thoughts right back to grade school but these plates are not your school days cafeteria trays. As we get older, things we used to take for granted like eating and drinking can become harder. Divided trays can help to make mealtime a little less stressful and embarrassing. The distinct compartments help to keep the food where it's supposed to be and make it easier to get the food onto the fork or spoon. Today's designs are sophisticated, understated and designed for adults.
3. Bibs for Adults
Adult clothing protectors are trendy, stylish and practical. The fact is, spillage happens. Illness or limited mobility can make eating even more difficult. These bibs for adults are becoming a staple item for many older adults and manufacturers are noticing. Not your average "bib", adult bibs like those from Classy Pal are designed with both style and function in mind. They protect clothing while allowing your loved one to be fashionable and comfortable. There are styles to fit every personality and need.
4. Adjustable Lap Tables
Trying to hold things like a book or a tablet in a comfortable position can be really hard. Adjustable lap tables can be raised, lowered or adjusted to meet your loved one's needs easily. Some are portable so it can be used for those seniors on-the-go. These tables come in a variety of designs and styles so you're sure to find just the right one to fit your loved one's décor.
5. Weighted Blanket
Once used for sensory needs, weighted blankets have become popular in mainstream use. Weighted blankets are blankets that contain pockets of sand, poly pellets or other fillers that provide a deep pressure touch. That feeling of deep pressure is calming and comforting, kind of like a big hug. These blankets have been found to help improve things like poor sleep, anxiety, depression, stress, restless leg syndrome, menopause symptoms and more. Weighted blankets have even been found to help with the agitation sometimes associated with dementia. The blankets come in different weights but may not be appropriate for every person. Definitely check with your loved one's healthcare provider to be sure.
With a little exploration, you can find the perfect adaptive gifts for the people you love most. Think about what their biggest little struggles and barriers to independence might be. Chances are, there's a gift made just for that need and made for the mature user.
Not sure where to start? Visit Classy Pal for some great gift ideas and hear what others are saying about their products made just for adults.