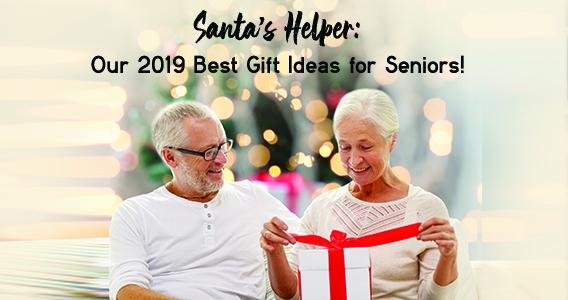 Santa's Helper: Our 2019 Best Gift Ideas for Seniors!
It's that time! Making your list, checking it twice. Choosing that just right gift for those you love most. For our senior loved ones, choosing a gift can be challenging. They may have limited space. They may already have the necessities they need. They may not tell you what strikes their fancy. So, what's Santa to do? Smart Santas check out gift guides for the best ideas.
Here at Classy Pal, we've played Santa's helper and compiled a list of gift ideas to help you choose the perfect gift for your loved one. You'll find something for everyone. Fun or functional? Why not both?
Gifts of Entertainment
Sometimes limited mobility can mean not being able to be out and about as often. Gifts that provide some much-needed fun or entertainment can be a blessing.
Word puzzle or crossword puzzle books (don't forget some nice pens or pencils)

Online apps or video games

Music streaming subscriptions or downloads (think Apple Music, Pandora, etc.)

TV or movie streaming subscriptions (think Netflix, Hulu, Amazon prime video)

Sketch pads and charcoals, pencils, etc. for your artistic loved one
Gifts of Comfort
There's nothing like feeling cozy and warm on a chilly winter's evening.
Non-slip slippers or cushy non-slip socks

Easy-to-open favorites of bath or shower products

A soft heated or cozy blanket or throw

A lap table

A weighted blanket or weighted lap pad designed for an older person. The gentle, deep pressure of a weighted blanket or lap pad has been shown to help reduce symptoms of anxiety, improve feelings of calm and promote better sleep.

1 Note: Weighted blankets need to be the appropriate weight for the person's needs. Ask your loved one's healthcare provider for recommendations.
Gifts of Assistance
Your loved one may have some difficulty with everyday tasks like bathing, eating or reaching for things. Consider a gift that can help them navigate their day a bit easier. You can find these at home medical supply stores or online retailers.
Easy-grip utensils and dinnerware to make mealtime easier

Short- or long-handled reachers (sometimes referred to as "grabbers") to retrieve those items that always seem to be just out of reach. 

Adult clothing protectors or "bibs". Classy Pal's adult clothing protectors are designed for the sophisticated, mature adult and keep spills off clothing whether at home or on-the-go.

Easy-to-open hygiene products and items like shampoo, body wash, lotion and such, long-handled body brushes or cloth holders.

A cleaning service subscription or gift certificate to help keep home tidy.
The important thing to remember is that gifts don't have to be extravagant or expensive. Gifts from the heart with the recipient in mind mean so much and say "I love you" which is what loved ones want most.
Classy Pal wishes you and your loved ones a joyous and safe holiday season.
To start the holiday season off, Classy Pal is offering up to 25% off on products through Cyber Monday and free shipping on orders over $60. Visit our website for details.
1. Novak, T., Scanlan, J., McCaul, D., MacDonald, N., & Clarke, T. (2012). Pilot study of a sensory room in an acute inpatient psychiatric unit. Australasian Psychiatry, 20(5), 401–406.