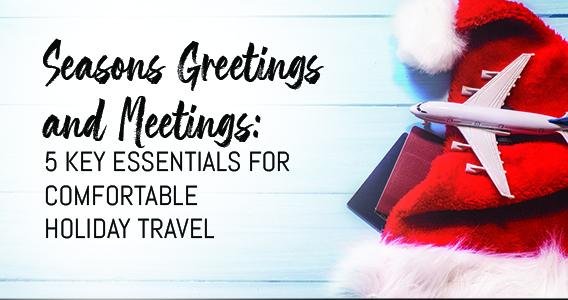 Seasons Greetings and Meetings: 5 Key Essentials for Comfortable Holiday Travel
If you're like most people, you're probably planning to travel over the holidays. In fact, Travel Channel estimates that over 60% of people will be traveling during the holiday season. That's a lot crowds and waiting in lines and riding. Whether it's a plane, a train or a car, a few key essentials can make the journey more comfortable. 
Travel Pillow/Neck Pillow 
They might look funny but those U-shaped neck pillows are little rock stars. Sitting in one position for hours can take its toll on your neck. Having good support can save you from spending your holiday dealing with a stiff neck. If a neck pillow isn't your style, A good pillow can also help you sleep if you're taking a long ride or flight. When you're finished, toss it in your bag and you're ready to go.
A Good Bag
Speaking of bags, there is nothing like a good travel bag to keep all your travel essentials handy. Think functionality and comfort. Look for a bag that is easy to carry and has ample space. Some people like a tote style bag. Others like the backpack style bags. Carried on the shoulders, they are comfortable to carry and your hands are free. It might be tempting to buy a big bigger bag. Remember, space tends to be limited on planes and in cars. And, as cute as that big bag might be, you'll be carrying it through crowded terminals and narrow aisles. Bigger isn't necessarily better.  
Handling Mealtimes
If you'll be traveling for an extended time, you'll no doubt find yourself eating on a plane, in the car or in unfamiliar places. Balancing a container of food or drink in a narrow space during a bumpy ride is a guaranteed spill. Those little plastic utensils might be hard to hold. Toss a Classy Pal adult clothing protector in your travel bag and you'll be able to eat anywhere with confidence. With its sophisticated design and easy-on easy-off design, you can enjoy your meal knowing your clothing protector has you covered. No worries about arriving with stains or crumbs on your holiday sweater. 
Fun Fidgets
Layovers and long rides can get boring quickly. The solution? Pack your own fun. You might like to listen to audiobooks or podcasts. Before you go, download a few favorites. Be sure to pack your headphones and charging cords for your device. Word searches, crossword puzzles or adult coloring books can help you pass the time. Don't forget your pencils! 
Personal Essentials
Long trips sometimes mean a long time between showers. If you'll be on the road for a while, be sure to pack a few personal items for freshening up. Travel size antibacterial wipes, deodorant, hand lotion, mouthwash, toothbrush and toothpaste and such are easy to pack and easy to use when you're on the go. You'll also be prepared in case of a layover or travel delay. 
With just a little planning, your holiday travel can be comfortable and enjoyable. Of course, the best part is seeing the people and places you love most.
From our family to yours, Classy Pal wishes you a happy and safe holiday season.