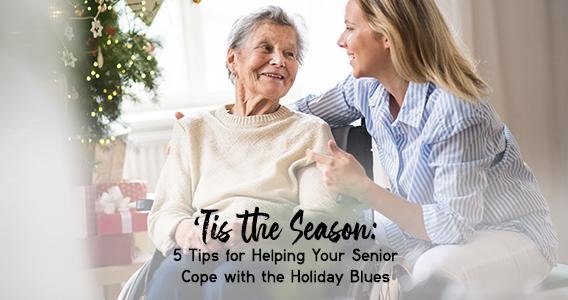 'Tis the Season: 5 Tips for Helping Your Senior Cope with the Holiday Blues
The holidays are usually a time of family and fun, glad tidings and good cheer. But for some, the holidays bring on the blues. For our mature loved ones, holidays can be an especially difficult time. Age-related illness, loss of dear friends or mobility issues, even some depression, can leave them feeling less than joyful and make them more vulnerable to feeling blue.
It is estimated that about one-third of adults over the age of 65 live alone.

One study found that about 70% of seniors report feeling lonely

1 in 4 seniors suffer from depression
Holiday blues can pop up even for someone not particularly prone to depression. If you find that someone you love is feeling a little blue, here are 5 easy tips to hep chase those blues away!
Make Connections
Staying socially connected is an important factor in maintaining health and well-being as we age. It can be tough keeping those connections when illness or mobility issues arise. As you're making your holiday plans, include your loved one.
Ask for their input on menus, plan, etc.

Include those well-loved family traditions they cherish

Encourage them to get out and about – plan a shopping trip or a lunch date

Check out local senior center holiday activities to spend time with friends
Reach Across the Miles
Loved ones who might be far away can be especially lonely. With today's technology, even our distant friends and relatives can be part of the holiday festivities. Most everyone has access to either a smartphone, tablet or computer.
Plan a family or friends phone call or a video chat via something like Skype or FaceTime. If tech is an issue, you can enlist the help of a tech-savvy relative to help coordinate the call. Being able to see each other, a smile and an "I love you" will brighten any day and help those far-away loved ones feel a little closer to home.
Lend A Hand
As we age, it just becomes harder to get around. Things that were once easy become a little harder. Other things we need help with. As you're making holiday plans, think about your older loved one. Might they need help with meals or shopping, decorating or getting to and from the family gathering?
Asking for help can be uncomfortable and your loved one might not tell you they need help. Offer to help your loved one with holiday tasks or preparation:
Arrange a shopping day

Offer to help wrap gifts or address Christmas cards

Offer to help with cooking if your loved one has a special dish they love to prepare

If needed, offer a safe ride to and from the holiday party (consider designating a family member or using a ride service)
Ask and Listen
Contrary to popular belief, asking or talking about feelings does not make a situation worse. In fact, expressing feelings and getting support is a protective factor in coping with difficult feelings or situations. Ask your loved one how they're doing. Ask how they're feeling about things. And then listen. Let them share how they're feeling and thinking.
Some people are uncomfortable talking about themselves. A fun way to get the conversation started is by asking about the holidays. Ask about their memories or family traditions. Ask what they're hoping for during the holidays. Within those conversations, you're likely to hear a lot about what your loved one is thinking or feeling. And, you will likely learn some interesting things. After all, your family's history lies in the memories of the family elders.
Make A House Call
If your loved one cannot travel to your home for the family festivities, consider bringing the party to them. They are probably missing you and feeling a little blue during knowing they cannot join in the festivities. Set aside a few hours to stop by their home, love them up and spend some time with them. Bring a few loved ones and take a plate of all their favorite holiday treats. Knowing that you remembered and included them will mean so much and brighten their day.
This holiday season, spend a little extra time with your aging loved ones. Let them know you're thinking of them and include them where you can. Check in with them. A little extra loving will warm everyone's hearts and bring everyone together whether in person or in spirit.
From all of us at Classy Pal, we wish you and your loved ones a joyous holiday season.