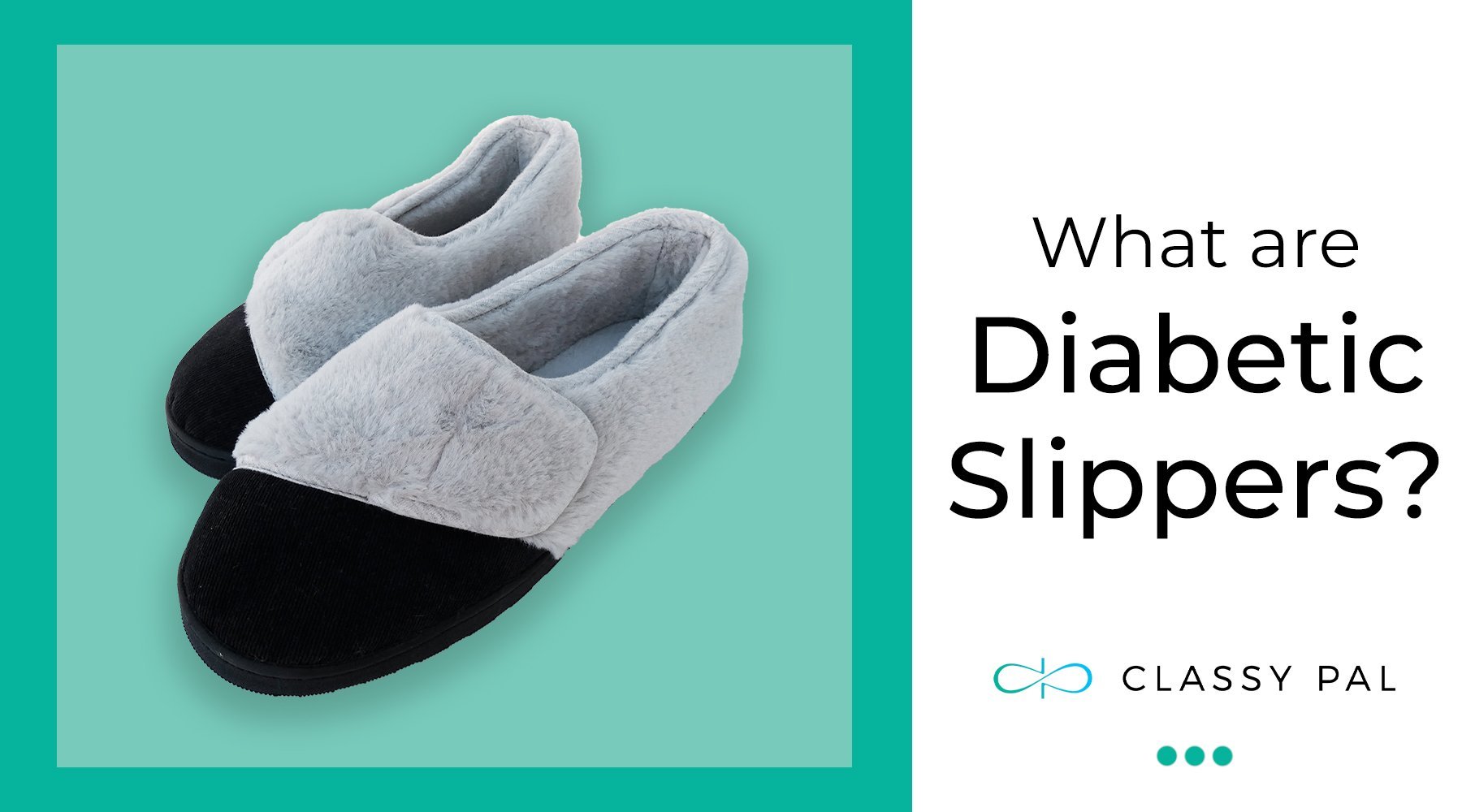 What Are Diabetic Slippers?
What Are Diabetic Slippers?
You know the feeling – taking off your shoes and slipping your feet into a soft bed of warmth and comfort. If they could, your feet would be smiling. Slippers are one of those things that when you find the right pair, you feel as if you could wear them forever. But, if you have diabetes, even slippers are something you have to be careful with. 
One of things people with diabetes hear early on is, "Take care of your feet." And, it is more than just a saying. People with diabetes are at high risk for serious foot issues and in severe situations, amputations due to infection or tissue damage. Poor circulation, skin breakdown and diabetic neuropathy in the feet require special consideration. What can begin as a minor cut or abrasion can quickly turn into an emergent health situation. One of the culprits of foot injury is ill-fitting shoes. Diabetics have to pay special attention to their shoes not just for fit in terms of size but also how that shoe fits. You might think that slippers are by definition comfy and cozy. And, they are, but for diabetics, they must also fit in a way that also cradles the foot safely. You may already know that there are shoes designed especially for the diabetic foot. But, it might surprise you to know there are diabetic slippers too. So let's talk about diabetic slippers! 
So What Are Diabetic Slippers Designed For?
Diabetic slippers are slippers designed with the needs of the diabetic foot in mind. These slippers are constructed from materials that are friendly to the diabetic foot. They are designed in a way that minimizes pressure points and spots where the skin of the foot could be broken by rubbing or pinching. 
Diabetic slippers come in a variety of styles and colors and design features. To an untrained eye, diabetic slippers look like the slippers you love to wear. A closer look will show you that these slippers are designed to fit a diabetic foot. 
Why Choose A Slipper Especially for Diabetic Feet?
If you or a loved one have diabetes, you want to do everything you can to stay healthy. Choosing things that are made with the needs of a diabetic in mind can help you to take good care of yourself and reduce the risk of having an issue due to poor fitting shoes. But it's more than just about comfort. Because they are constructed especially for people with diabetes, diabetic slippers and shoes can help in other ways:
Improve mobility and stability
Prevention of skin breakdown and abrasion
Elimination of pressure points that can lead to foot ulcers and callouses
Promote circulation which is especially important for diabetic feet
Diabetic slippers mean you slip your feet into something that is comfy at the same time, healthy for your feet. 
What's In Your Slipper?
Diabetic shoes and slippers are designed to eliminate the pressure points and areas that can rub or place undo pressure on the foot. This means constructing a shoe or slipper that is both functional and comfortable. 
Diabetic shoes and slippers should be made from soft, non-abrasive materials.

 

Look at the stitching. It should not protrude into the foot area where it could rub on the foot.
Uppers (the upper, top part of the shoe or slipper) should be soft and non-binding. You don't want pressure on the top of your foot. Slippers may have a soft, well-padded strap or be slip-on.

 

The toe box should be deep and roomy. This allows extra room for your toes to move freely and not be squished together.

 

Soles should be cushioned and light-weight. They should also be non-skid to help prevent slips.
The footbed should be deep enough to alleviate pressure points and accommodate orthotics which some people with diabetics use.

 

The footbed should be soft and cushioned. Look for something like the memory foam used in

Classy Pal's diabetic slippers

.

The thick memory foam will form to the shape of your foot for optimal support and pain relief.

And, slippers should be practical. Look for slippers that are easy-care and machine washable.
Now that you know what diabetic slippers are and what to look for the next step is to try them! When shopping for and trying on diabetic slippers, ask yourself these questions:
Does the slipper place undo pressure on any area of the foot? If you're trying on, walk around. Do you feel spots that are rubbing or feel pressure?

 

Are there straps or buckles that rub on certain areas?

 

Does it provide enough support or cushioning? These questions apply to every shoe, even slippers! Not all shoes and slippers are created equally and it's important to find the fit that is right for your foot. When you do, your foot will thank you.

 
Diabetic slippers sound heavenly for the feet, don't they? You might be wondering whether diabetic slippers can help others with foot issues. The answer is yes!
Diabetic slippers can provide support and comfort for tired feet, arthritic feet, swollen feet, and feet that may just need some extra TLC. They make a great gift for yourself or a loved one whose feet could use some extra care and comfort.  
At Classy Pal, we strive to provide our customers with the best in products that let you or your loved one live comfortably and independently. We invite you to check out all of the new products we've added and of course, our diabetic slippers. We will continue to bring you the best in personal care products and as always, keep it classy.