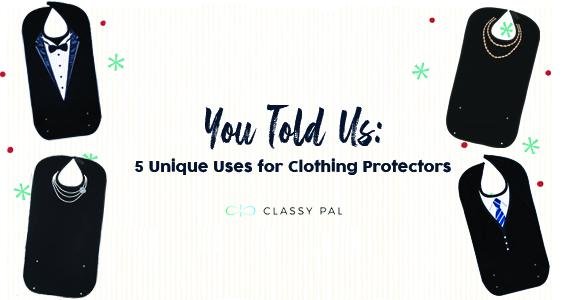 You Told Us: 5 Unique Uses for Clothing Protectors
We have the best customers! We love that you interact with us, comment on our blog and tell us about your experiences with Classy Pal products. We hear you!
As you know, Classy Pal adult clothing protectors were originally designed to help keep spills off clothing at mealtimes. And, you tell us you love them for that purpose. What you're also telling us is that you've found other unique and interesting uses for them!
We're so excited by your creative uses of our adult clothing protectors that we decided to share the news with others.
Crafty Crafters
Crafting can be a messy activity and that's part of the fun! Paint splatters, chalk, glitter and other craft materials can be almost impossible to keep off of your clothing. Our crafty customers tell us that our adult clothing protectors are great for those projects where drips, spills and splatters are likely to happen. Pop one on and you've got an absorbent, stylish craft bib that you can be confident wearing in your craft room or at a crafting event. Your crafty friends will wonder where you got such a fabulous accessory!
Savvy Commuters
Those of you constantly on the go know the reality of eating on the run. Sometimes you're in your car trying to drink coffee and eat that breakfast sandwich. Those tiny little napkins just don't cut it and before you realize it, your work clothes are covered in crumbs and splatters. You savvy commuters tell us that you keep a Classy Pal clothing protector in the car just for those meals on the move. They keep your clothing clean and work-ready. If you get some spills on the protector, a toss in the laundry and back in the car it goes for your next trip.
Clever Cooks
If you love to cook, you've probably heard the saying, "A good cook is a messy cook." Messes happen. Spills and splatters on your clothes happen. You've probably wrestled with aprons but they don't always fit well or just get in the way. Some of our clever cooks tell us that instead of long aprons, a Classy Pal clothing protector provides the perfect balance of clothing coverage and great fit. They're easy to fold up and store in a kitchen drawer and, they're easy to pop into the laundry when you're done. Whether you're cooking for guests or for the family, you'll look classy and comfortable in your chef's attire.
Protection for All
Some of you have told us that you use Classy Pal adult clothing protectors because you just find them helpful in keeping your clothes clean while eating. Let's be honest, some foods are just messier than others and not spilling or dripping is nearly impossible. Some of us are just messy eaters for one reason or another. And still for some, regular size napkins just don't fit the bill. You've told us that our clothing protectors give you a way to eat without the worry of spills, drips and stains on your clothing. Going out? Grab one of our clothing protectors to take along. They fold easily and can be worn discreetly. At home, keep a couple of clothing protectors on hand. You can eat anywhere and feel dignified and comfortable knowing your clothes are protected.
Beauty Secrets
If you've ever spent time trying to do your hair or makeup without spilling, you know that almost never happens. Even the most skillful application usually leaves behind tiny drops of makeup, a dusting of powder or hairspray residue that we often don't see until we're out and about. Sigh…what's a beauty to do? Our beauty experts tell us that they use our adult clothing protectors when doing hair or makeup to protect skin and clothing from those inevitable little splatters. Keep one near your makeup table or vanity. With its easy on, easy off design, you can get your hair and makeup just right with no worries.
These are just a few of the unique ways people are using Classy Pal's adult clothing protectors. How are you using our products? Tell us! We'd love to know so we can share more great ideas!